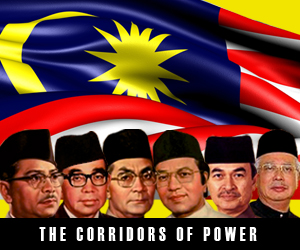 I still have not decided whether there are any shenanigans involved in the multi-billion Ringgit Penang Undersea Tunnel project being implemented by the Penang State Government. However, the news reports appear to suggest that there is something not very kosher going on behind the scenes. Is this going to be DAP's PKFZ?
THE CORRIDORS OF POWER
Raja Petra Kamarudin
(Tunnelbuilder) – The Dap-led Penang state government has awarded a RM8 billion (EUR2 billion) contract for the underground tunnel linking the island to the mainland and three major highway projects to Malaysia-China JV Consortium Zenith BUCG Sdn Bhd, with a land swap deal and a 30-year concession on the tunnel. Consortium Zenith BUCG is made up of a local company, Consortium Zenith and China-based Beijing Urban Construction Group (BUCG). The deal will only be formally inked after a few more months when the finer details of the overall project are agreed.
The project includes a 12 km-long dual carriageway connecting Tanjung Bungah to Teluk Bahang; a 6.5 km-long Penang-Butterworth sea tunnel that links Persiaran Gurney on the island to Bagan Ajam on the mainland; a 4.2 km-long highway linking Persiaran Gurney to the Tun Dr Lim Chong Eu Expressway; and a 4.6 km-long highway linking the Tun Dr Lim Chong Eu Expressway to the Bandar Baru Air Itam bypass.
**************************************************
Penang Undersea Tunnel
(Beijing Urban Construction Group) – Consortium Zenith BUCG Sdn Bhd was established on 5th July 2012 as a Special Purpose Vehicle (SPV) to undertake mega infrastructure project in Penang. The consortium comprises of Beijing Urban Construction Group, China and Zenith Construction Sdn Bhd.
BUCG is a large international comprehensive construction group, mainly in the General Contracting, Real Estate Development and Design & Consultancy businesses. BUCG is recognized both nationally and internationally as Top 225 International Contractor, China's Top 500 Enterprises, China's Most Influential Enterprise, and China's National Outstanding Construction Enterprise.
**************************************************
Penang undersea tunnel feasibility study ready in April
(The Sun Daily) – Consortium Zenith BUCG Sdn Bhd expects to complete feasibility studies for the controversial RM6.3 billion Penang undersea tunnel infrastructure project and major roads in April this year, said its chairman Datuk Zarul Ahmad Zulkifli.
Consortium Zenith is a joint-venture between Zenith Construction Sdn Bhd and China Railway Construction Co Ltd, together with Beijing Urban Construction Group, Sri Tinggi Sdn Bhd and Juteras Sdn Bhd.
Zenith PMC Sdn Bhd, a unit of Zenith Construction, signed a joint-venture agreement with Astral Supreme Construction Sdn Bhd in September 2013 to carry out a feasibility study, design and environmental impact assessment (EIA) for the undersea tunnel.
**************************************************
Guan Eng mocks BN at tunnel meet
(NST) – The more than 300 people who attended a public consultation in Tasek Gelugor, near here, on the RM6.3 billion proposed undersea tunnel and highway projects in Penang ended up hearing Chief Minister Lim Guan Eng criticising Barisan Nasional.
Guan Eng blamed the Federal Government for the state of the public transport system in Penang while trying to justify his pet projects, including the tunnel linking Persiaran Gurney and Bagan Ajam.
He also brushed aside criticisms against the projects by individuals and non-governmental organisations, such as Penang Forum and Consumers Association of Penang (CAP).
**************************************************
Identity of Zenith chief questioned
(The Star) – The identity of Zenith Construction Sdn Bhd chairman Datuk Zarul Ahmad Zulkifli is being questioned by Penang Barisan Nasional Youth.
Penang Umno Youth chief Dr Shaik Hussein Mydin said a search made with the Companies Commission of Malaysia (SSM) on Tuesday revealed that Zarul was neither listed as a director nor a shareholder of the company.
Zenith Construction is one of the major players in Consortium Zenith BUCG Sdn Bhd which won the tender for the undersea tunnel and three road projects in Penang that cost RM6.3bil.
The consortium is a collaboration of four companies Beijing Urban Construction Group (BUCG), Sri Tinggi Sdn Bhd, Jureteras Sdn Bhd and the Zenith Construction Sdn Bhd-China Railway Construction Corporation Ltd partnership.
Dr Shaik Hussein said since Zarul's name was neither in the list of directors nor shareholders of Zenith Construction, he should publicly reveal his personal financial capacity to take up the projects.
He had earlier also questioned the track record of Zenith Construction, saying that the company was registered with SSM on Aug 22 in 2011, some three months before the tender for the projects opened on Nov 14 in 2011.
**************************************************
RM6.3 Billion Project Awarded to a Convict who is Heading Consortium
(Stop The Lies) – This is the most scandalous, outrageous and treacherous.
Firstly Lim Guan Eng announced that the mega project was awarded to a RM2 company called Consortium Zenith BUCG Sdn Bhd.
The announcement came out of the blue with the approach of the 13th general election. It has been a best-kept secret until the announcement by Lim Guan Eng recently.
Then it was discovered that the project was awarded to Zenith that was only formed after the closing submission of proposal.
The closing date for the submission of proposal for the major road and tunnel projects in Penang was June 2012.
However records of the Companies Commission showed that Zenith, which was awarded the project, was only set up on July 5 last year.
How is it possible that Zenith could have been awarded the tender when they had not even registered the company yet in June.
But the bigger concern now is that Zenith chairman Zarul Ahmad Mohamad Zulkifli is a convicted criminal and he is leading a company undertaking the projects which include a 6.5km Gurney Drive-Bagan Ajam undersea tunnel, a 4.2km Gurney Drive-Lebuhraya Tun Dr Lim Chong Eu bypass, a 4.6km Lebuhraya Tun Dr Lim Chong Eu-Bandar Baru Air Itam bypass and 12km road connecting Tanjung Bungah and Teluk Bahang.